Hey, gang! I know it's been really way too long since I've posted. But my life has been a roller coaster for the past several months in many wonderful but very stressful ways. My newborn baby girl, Olivia, has been keeping me up at nights, and my research has been keeping me busy nonstop during the days. But it's been rare that I've fallen so hard for a book, and I did, for the last of a promising trilogy. So that's why I'm appearing briefly to give this trilogy its well deserved kudos. That said, I'm getting ahead of myself.
I read Insignia the day it came out, after SJ Kincaid came for a signing in St. Louis. I had never heard of the book before, but there were some favorable comparisons to Ender's Game, so I figured I should give it a try.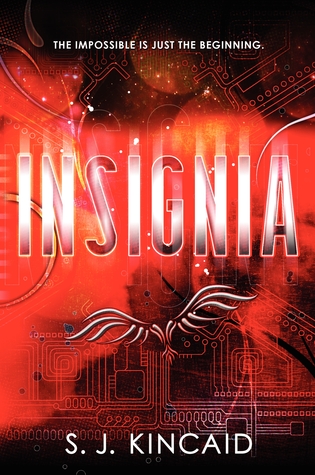 Insignia is about a 14 year old boy named Tom who has nothing going for him and keeps his gambling addict father and himself clothed and housed through gaming. The government hears of him and soon he is whisked to the Pentagonal Spire where he is implanted with a neural device that allows him to enhance his knowledge with downloadable content; he effectively becomes a soldier in the military who want to use his talents for the current world war. Soon, he is pitted against the deadly but fascinating Medusa in a battle to end all battles.
The first time I read this book, I felt like the author basically transplanted the Hogwarts trio into Ender's Game. I could match up plot lines and characters from each book to the ones in Insignia. At the same time, it was still entertaining to read (since I obviously liked both of the aforementioned books). And the last 25% (with one exception) made it all worth reading because it finally focused on my favorite character of all, Medusa, and it veered away from the previous formulas a bit more. The characters are lovable and funny. Since I liked Hermione the best from Harry Potter, it's not surprising that I enjoyed Wyatt, her counterpart, probably the second most after Medusa. The protagonist, Tom, is very likeable but is definitely flawed and adolescent-- Kincaid knows how to write 14 year old boy perspectives! Blackburn, the Snape equivalent, is appropriately creepy. And Yuri, the Russian, was really fun-- and possibly the most original of the cast.
Because of the world building and the intriguing cast that seemed to come into their own by the last part of the book, I knew I'd eventually finish the trilogy. I gave this book four out of five stars.
When I heard Catalyst, the final book was coming out this year, I knew I needed to catch up. I immediately went to my local library and borrowed Vortex, the second in the series. Middle books are hard because most series stagnate in the middle, just piddling away time until the last book. That was certainly not the case for Vortex.
Vortex by SJ Kincaid takes place after Tom has come out victorious in ways that I wasn't happy with (at least how internally he reacts to his own decisions, which was not at all), but I realize this was very deliberate by Kincaid. We get reintroduced to the Scooby gang. We also learn more about Tom's relationship with his father, which is difficult and complex at best. At first, I was worried we'd get more of the same, but it's clear in this book that everything changes. Tom's downward spiral continues in this book, where he pretty much ostracizes everyone that could make him successful and famous. While no one could doubt he is talented and intelligent, he also comes off as bratty and ungrateful and too proud. The Tom in this book reminds me of 5th book Harry Potter. But each of the characters diverges from their Harry Potter comparisons, and this book with a few twists and some great character development becomes so much more.

Everything is so much more polished in this book. I love the lingo that Kincaid uses-- I felt like I was truly in this world. Great world building, and the pacing was terrific. Kincaid takes a huge risk in alienating her readers towards Tom. But even though I wanted to shake Tom at times, I kind of got where he was at, and I was willing to follow him through his adventure to see what would happen. There were a few major twists in this book that while I was suspicious they would happen, I was okay with sensing them before they happened because it took the plot in a direction that seemed the only right way to go. I can't reveal my favorite character because I think it would be somewhat of a spoiler-- but let's just say I had my suspicions that a certain character that Tom thought of in a one dimensional way was much much more than that. And how happy I was to be proven right. Not to mention Medusa-- Tom and Medusa's relationship gets more and more complex, and at this time, I was with Tom enough in this book to get where he took things. He's so much a clueless boy in some ways, which I loved, because I thought his fumbling ways were well done, and while the end was rather heartbreaking, I felt like it was the right ending. I felt this book took the trilogy in its own direction, and really impressed me with how SJ Kincaid grew as a writer since Insignia. I gave this book 5 out of 5 stars.
I was thankful I had CATALYST in my hands so I could start reading it right away.
Catalyst takes place right after the events of VORTEX. All of his relationships are in jeopardy, and he pretty much put a sign on his head for Vengerov to come kill him. Things take a dark turn, which was another risky move by Kincaid, but once again, she totally pulls it off as what happens to Tom is so important for his development as a character as well as how the rest of the story plays out. I don't want to say much more, but there were several twists that completely surprised me (and were deployed perfectly at the right time), and from the first few pages, the story doesn't lose its lightning pace until the very end.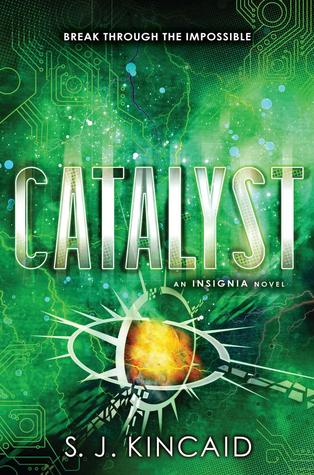 I was so unbelievably blown away with this book. And I don't impress easily. The world building as usual is incredible, which is totally hard to do in a sci fi novel, and the character arcs and development finally finish in this installment. Everything is resolved one way or another, and I think it's in a very satisfactory and perfect way. While it is the darkest of the three books, we've been heading this way for a long time, and it's the only way the story could go. I love how Kincaid barrels ahead, willing to take risks, and then executes them in a way that knocked my socks off. I went from thinking Kincaid was a talented writer with a lot of potential to now completely convinced she can do anything she sets her mind to. She's arrived.

Overall, one of the best if not BEST ending to a trilogy I've ever read, and you'll want to read all three of these books back to back. I knew after reading this book I needed to have the entire set on my shelf.
And NOW... enter to win a copy of CATALYST!!! SJ Kincaid has been so generous to offer up two copies of Catalyst for 2 lucky winners in either the US or UK! It's not often we get UK giveaways, so everyone in the UK who is a YA lover should get on this giveaway! Make sure to turn in tomorrow for the awesome interview with SJ and for more entries into the giveaway!
a Rafflecopter giveaway