Dear Readers:
I am so lucky to get to introduce another author who is going to be at the St. Louis Book Fest YA Panel, the wonderful Nina LaCour!
Don't forget:
Here are some details about the panel:
From 12pm-1:30pm at The McPherson (4715 McPherson Ave.) on September 23, we'll have Sherman Alexie (here for the 10th anniversary edition of The Absolutely True Diary of a Part-Time Indian), Nina LaCour (We Are Okay), and Zac Brewer (Madness) talking about their newest books, and also the role of today's most relevant teen issues in contemporary YA fiction.
Goodreads Book Description: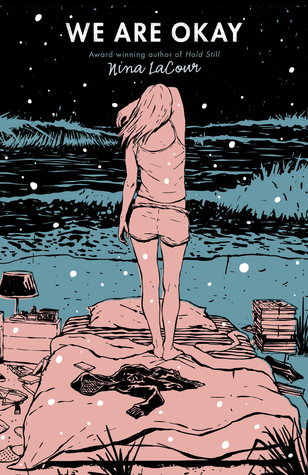 You go through life thinking there's so much you need…

Until you leave with only your phone, your wallet, and a picture of your mother.


Marin hasn't spoken to anyone from her old life since the day she left everything behind. No one knows the truth about those final weeks. Not even her best friend, Mabel. But even thousands of miles away from the California coast, at college in New York, Marin still feels the pull of the life and tragedy she's tried to outrun. Now, months later, alone in an emptied dorm for winter break, Marin waits. Mabel is coming to visit, and Marin will be forced to face everything that's been left unsaid and finally confront the loneliness that has made a home in her heart

.
Blurb about the author:
Nina LaCour is the author of the nationally bestselling We Are Okay, as well as Hold Still, The Disenchantments, Everything Leads to You, and You Know Me Well, which she co-wrote with David Levithan. She lives in the San Francisco Bay Area with her family.
Interview with Nina LaCour
1. Marin is in a haze of grief for most of the book, trying to find her way out of it. I know you've had personal experiences with similar grief. What was it like to be able to write this book? Was it therapeutic in some ways? How has writing helped you as a person?
I always write from a place of my own struggles and questions. The events in my books rarely reflect my life, but the feelings behind them almost always do. We Are Okay emerged during a tumultuous time in my life. I had lost my beloved grandfather; one year later, on the anniversary of his death, I had my first child; less than a year after that, my parents separated and eventually divorced. It was a time of lessons about family--beautiful lessons and hard ones--and the wonder of love and family along with the grief over things falling apart were integral to my writing. It was absolutely therapeutic to write it. It helped me learn more about myself and to channel all of my messy feelings into a book that, hopefully, captures some of the complexities of familial relationships.
2. I loved your characters, and in particular loved Marin and Mabel, both who seemed very real to me. Do your characters generally come full-fledged or do they come after the idea of the story comes about? Do you ever notice similarities to people you know (or maybe you purposefully embody them with characteristics from people you know?)?
Thank you! Marin and Mabel hold special places in my heart. Neither of them is based on any specific person, but Ana, Mabel's mother, is taken by a lovely woman I used to work with when I taught high school. It had been a while since I'd worked with her but then she just kind of appeared on the page, and I had to check with the real Ana to make sure it was okay! (I got her blessing.) The tension and love between Marin and Mabel came to me first, and the ways in which they want to be good to each other but are held back by their deep wounds and different life circumstances. And then, from there, the different elements of their personalities emerged as I wrote.
3. Tell us a little about your writing process. Do you usually write a book straight in a few sittings then edit? Does it come gradually chapter by chapter? Is it character driven or plot driven? Do you snack? Listen to music? Have critique partners or beta readers?
I have an absurd writing process that I would not wish on anyone. I write fragments, in no order, occurring at any point in the plot. These include single-sentence descriptions, a few lines of dialogue, an image, etc. I keep working on them and expand them and add more, until eventually I have something resembling a cryptic outline and the plot begins to form in my mind. At that point I put them in a rough order and determine what scenes need to be added. I then go through all the fragments of scenes in order to make them complete scenes, and fill in all the blanks. I wish I could write from beginning to end, but this is how I've always done it and I don't see it changing. I live in a very small house with my wife and daughter, so unless I have the place to myself, I tend to write at my local cafe. Ever since high school I've written listening to a song on repeat. The song changes, but I find that it helps me to tap into a feeling and get in a trance of sorts. Once I have something that is cohesive enough to share, the first people to see it are the members of my writing group, three wonderful women with whom I went to graduate school. They are invaluable to me. I know I can show them my messiest work and they will help me to find my way.
4. Can you give writing advice to my readers that you wish you had known starting out?
It took me until my senior year of high school to finish a short story and college to get in the habit of always finishing them. In graduate school, I wrote my first full novel which would become Hold Still. It took me a long time to learn that writing is work and often feels like work. The inspiration is only a small part of it. The rest of the process is often a slog. So my biggest piece of advice is to treat your writing like work and make yourself finish your projects (unless you know that the story is not worth telling, at which point, allow yourself to start something new). Also, finding a trusted person or a group of people to exchange work with is such a great way to motivate yourself to work your hardest and to teach yourself so much through reading the works in progress of others.
5. What are some of your all-time favorite books and why?
Jandy Nelson's I'll Give You the Sun. Jandy's writing is something otherworldly to me. It is spectacular. Raymond Carver's short stories have been the most influential works for me. I read them repeatedly when I was in high school and college and they helped me learn how to craft a story. Zora Neal Hurston's Their Eyes Were Watching God has taught me so much about flawed characters and the vibrancy of messy stories, plus her language is just so beautiful. Virginia Woolf and Edward P. Jones are two other favorites, whose insights into characters and the human condition offer limitless inspiration.
6. Can you tell us a little about what you are writing next?
I'm going to have to hold my cards close to my chest for this one! My next YA is still in its very early stages and I am afraid to say anything out loud about it.
7. Can you give my readers any words of wisdom about working through grief from loss of a loved one?
I am certainly not an expert, but I will offer this. Allow yourself a lot of time. Years and years, or maybe forever. It's okay to be happy and sad and angry all at once. Grief is not neat or linear. Remember to open yourself up to others, because grief is universal, and while we all suffer from it individually, we are never alone in our suffering.
And now, you get the chance to win this wonderful book!
a Rafflecopter giveaway