Dear All:
So excited to promote one of my favorite authors, SJ Kincaid, on the blog again! If you don't recall, she wrote the amazing Insignia trilogy that just got better with every book and recently came out last year with the sci-fi adventure The Diabolic, which has kept everyone talking! It was meant to be a standalone, which I thought was a travesty, but lo and behold, now the sequel, The Empress, has just hit the floors! Do you want to know how she ended up writing a sequel (which is now to become a trilogy?)? Keep reading to find out! By the way, The Empress totally blew my socks off. I know some people will be pissed, but man, SJ knows how to take things all the way, and I am so impressed with her.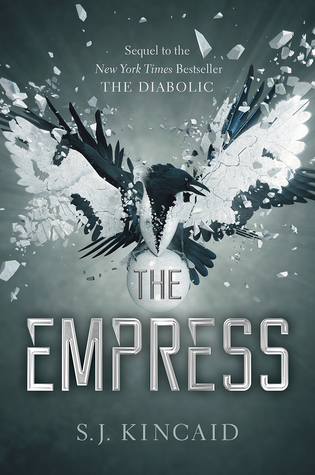 Goodreads Book Description:
It's a new day in the Empire. Tyrus has ascended to the throne with Nemesis by his side and now they can find a new way forward—one where they don't have to hide or scheme or kill. One where creatures like Nemesis will be given worth and recognition, where science and information can be shared with everyone and not just the elite.

But having power isn't the same thing as keeping it, and change isn't always welcome. The ruling class, the Grandiloquy, has held control over planets and systems for centuries—and they are plotting to stop this teenage Emperor and Nemesis, who is considered nothing more than a creature and certainly not worthy of being Empress.

Nemesis will protect Tyrus at any cost. He is the love of her life, and they are partners in this new beginning. But she cannot protect him by being the killing machine she once was. She will have to prove the humanity that she's found inside herself to the whole Empire—or she and Tyrus may lose more than just the throne. But if proving her humanity means that she and Tyrus must do inhuman things, is the fight worth the cost of winning it?
My Rating: 5 couches
My Review:
I remember after I read Diabolic, I really enjoyed it but just felt... incomplete. The world was so big and the upheaval that the whole Empire had gone through just seemed like there was so much more story to be told about Nemesis and Tyrus. I highly doubted it would be an easy road for them. I talked to SJ at the time, and she said she had no plans to write another, that it was meant to be a standalone. But lo and behold, to my shock and delight months later, she said was coming out with Empress. And boy, did she just gut me from start to finish. This is the book I wanted her to write, and there was very little sophomore slump. In fact, I would say this book surpasses Diabolic by a lot.

Tyrus and Nemesis are together and while it seemed like everything might be perfect after what they've gone through, nothing could be further from the truth. The whole universe seems to be balking at Tyrus' golden vision of bringing back science to the world, and people still do not see Nemesis as a human being. This is all I'm going to say about the plot. You have to discover it for yourself.

From start to finish, this is a rollercoaster ride where the action, politics, and character development doesn't stop. You can't even take a breath as a reader. And when you think things couldn't get any worse or more heartbreaking, think again. I don't think I've read a second book in the recent past as a good as this one. And that's hard to do. Usually I see second books as filler. This book seemed even more important and the stakes that much higher than the first. I'm not even sure that it can be completed in a third, but we'll see. After my heart and guts were on the floor at the end and I was gasping for breath, I just came to in amazement. I've always been a huge fan of Kincaid and think that her Insignia trilogy is largely underappreciated. But she has just improved and improved, and I'm just delighted for her. She has the guts to take things all the way, and I hope others now see what I've seen in her from the beginning.

You have to read this book the moment it comes out. You won't be disappointed and you'll be clamoring for the next one like I am.
Do you guys want a chance to see SJ in person? Of course you do! She gives the details below:
"I had this awesome and enormous pair of THE DIABOLIC wings made, so anyone who wants a selfie with them, come see me! These are my events:
October 30th: I'm having a launch at Kepler's in Menlo Park, CA with authors Krystal Sutherland and Tara Goedjen
October 31st
: Book release
November 2nd
: I have an event at Hicklebees in San Jose with Tara and Krystal.
November 4th
, I'll be at the Colorado Teen BookCon with Scott Reinten, Veronica Rossi, Emily Suvada, Len Vlahos, and moderated by Scott Bergstrom.
November 6th
: I'll be at Third Place Books in Seattle.
November 7th and 8th
, I'll have two events with Tommy Wallach at Barnes and Noble and Chevalier's Books in Los Angeles
November 18th
: Miami Book Fair"
Now, do you want to learn how this standalone became a trilogy?? Here we go!
SJ on how The Diabolic became a trilogy.
One movie I love watching is Ever After. Drew Barrymore's Cinderella character of course gets her happily ever after at the end, when she's standing there as Queen and you know everything will be awesome for her from then on.
Spoilers ahead for the Diabolic:
The Diabolic has much that same ending. I wrote it intended the book to be a stand-alone, but if I'd set out to write a trilogy, that might've been the end point of the trilogy: the mad heir to the throne and his Diabolic protector rising to power as Emperor and Empress. There The Diabolic ended with the implication: and they all lived happily ever after. Ultimately, the problem was, it never ends happily ever after there. One of the formative books I read growing up was Susan Kay's Legacy about Elizabeth Tudor, and the point where Elizabeth I is declared Queen of England? Pretty early in the book. And that's not because all the happy stuff needed to be recounted for the rest of the narrative, it's because rising to power only ushered her into a new set of struggles, difficulties, and violent clashes. She survived the immediate threats to her life in her youth and within her own family, only to face European-wide threats and a war between the Catholic and Protestant faiths, between England and Spain, and between herself and her cousin, Mary Stuart, that basically spanned the rest of her life. Ending The Diabolic where I ended it gave me incentive to leave it there, mostly because continuing the story meant obliterating that implication of happily ever after, and also because I knew just how difficult it would be to grapple with the entirety of the struggles that would lie ahead for Nemesis and Tyrus. Just like the Tudor era, there is a great war between two rival ideologies and like Elizabeth herself, Nemesis and Tyrus as a pair are the symbols and representatives of one side of that conflict.
I avoided even thinking of continuing the story, though I knew how much more there would be, just because it seemed too hard. Unfortunately - or fortunately? - I had this one plot idea that hit me and
suddenly, desperately wanted to write it. Which meant ruining the happy ending. Which meant taking on something very difficult, both for me and for the characters.
But I do hope it's worth it for a reader! I have the third and final book still to write, so it still seems a bit daunting to me as an author, but I always know where something is going to end… So we will see how it pays off taking away the Ever After ending to give a reader the real one.
****
I definitely think it pays off!!! To celebrate the release of this book, I'm giving away one Finished Copy to one of you (US only)! Believe me, you want to get your hands on this amazing book!
a Rafflecopter giveaway