Here we are for Day 3 of Armchair BEA! I loved both of these questions so I'm going to tackle both.
Question 1: Beyond the traditional form of the novel, what are your favorite alternative forms (graphic novels, audiobooks, webcomics, etc)? Do you have any favorite works within these alternate forms? How do you think the changing format affects the reading experience?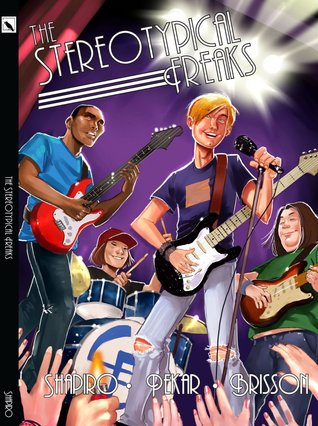 So I love graphical novels, and this realization came in an unusual way. I was asked by Howard Shapiro, who works with Animal, Inc, an indie book company, that works to put out great indie material, to review his book The Stereotypical Freaks several years ago. I was at a stage of my blogging where I was grabbing any book I could, because I loved finding indie gems in the rough, and it was worth going through the rest of the not so great literature to find them. This book was one of them, and had such heart and warmth that I would usually only find in a really good contemporary YA novel. This book really opened my eyes, and I did the editing for the next few projects with Howard, and we've put out a couple more graphical novels since then. In order to do his work justice, I went to the classics, in particular BONE by Jeff Smith, which is a fantastic graphical novel (set of novels) in one huge
tome (1300 pages!!!)-- I would describe it as a LOtR kind of world but oh so cute with the Bone clan. Having had to edit as well as read this medium, you can SHOW with pictures, and focus on good dialogue versus having to show with words. But the pictures can be so poignant and reveal a point so well. I've loved discovering how picture books for children can do this as well, for example Olivia by Ian Falconer is a great example of how the picture says it all.
Question 2: Our secondary topic, beyond the blog could focus on the ways you engage in talking about books outside of your blog. Do you participate in book clubs, take classes, meticulously maintain your goodreads profile? Let the world know!
I do several things, but I've had to put most of these on hold as my current job has basically taken over my life for the past year (and also my overactive toddler). I'm an editor as I described above, and I do some freelance work with that, which I love. I also write, and have a novel that is sitting on a shelf that I need to get back to eventually. I participate in Writer's Cramps on writing.com where people can enter prompt contests where they have to submit a story or poem within 24 hours and they get judged by other members, so it's a fun way to win and think creatively in a short period with quick feedback. I also work with Left Bank Books, our amazing local bookstore, to report on their bookish events. For example, I just interviewed the Fierce Reads

authors on tour, which I'll post about probably next week with the interview transcript!
And lastly, I'm fortunate to have met a lot of writers in St. Louis, so I go to dinner with them, and beta read, and basically get to hang out with some of the coolest people I've ever met. And a friend of mine and I are thinking of maybe co-writing a book one day, so keep an eye out for that!