One of my favorite reads this past year has definitely been American Panda, which I think is an important addition to the growing YA literature about growing up as an Asian American. I definitely felt kinship to Mei, the protagonist and wish that I had this book when I was growing up!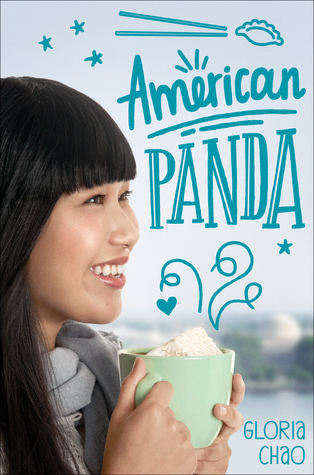 Goodreads Book Description:
An incisive, laugh-out-loud contemporary debut about a Taiwanese-American teen whose parents want her to be a doctor and marry a Taiwanese Ivy Leaguer despite her squeamishness with germs and crush on a Japanese classmate.


At seventeen, Mei should be in high school, but skipping fourth grade was part of her parents' master plan. Now a freshman at MIT, she is on track to fulfill the rest of this predetermined future: become a doctor, marry a preapproved Taiwanese Ivy Leaguer, produce a litter of babies.

With everything her parents have sacrificed to make her cushy life a reality, Mei can't bring herself to tell them the truth--that she (1) hates germs, (2) falls asleep in biology lectures, and (3) has a crush on her classmate Darren Takahashi, who is decidedly not Taiwanese.

But when Mei reconnects with her brother, Xing, who is estranged from the family for dating the wrong woman, Mei starts to wonder if all the secrets are truly worth it. Can she find a way to be herself, whoever that is, before her web of lies unravels?
My rating: 4.5 Couches
My review: I started the wonderful American Panda a day ago and had to stay up last night to finish it.

The book description for me was a bit of a mislabeling and maybe it's because of the personal place I'm reading it from. I didn't think it was a comedy by any means because I identified so strongly with Mei, the way she struggling between two cultures and finding herself when her parents had already found the version they wanted of her, her foot in the mouth comments, and her liberating experiences in college. I just found myself feeling sad and moved at the same time.

Luckily, my experience wasn't the same as Mei's-- she was constrained with every single decision. Fortunately, my parents were more relaxed and understanding (in their own way) of American culture, but some experiences rang exactly the same. I loved and identified with Mei as you can tell. She was a great character, likeable, and relatable. I hope that other people without similar experiences will find her story resonates with them. I hated that her parents were so strict that she felt she couldn't even think for herself anymore. And the risks were high for any sort of disobedience-- being completely disowned and getting money taken away from schooling. Sacrifice and money are the ways that Asian parents show love, but it has the unfortunate side effect of making love feel absolutely conditional. And I know Mei struggled with that daily.

I loved the side characters of Mei's brother, who has already been disowned, Xing, her crush, Darren, who is (gasp!) not Taiwanese, and in particular, Mei's mother, who is a complex and sympathetic character.

Several times during reading this book did I wish that I had this book as a teen. I could have used the knowledge that I wasn't alone, and that there was hope at the end of the tunnel.

Why the dock of 0.5? This is completely a personal thing-- not really a dock on the book, which is wonderful. SPOILER ALERT!!! Don't read this next paragraph as this has spoilers from the end of the book. I just couldn't reconcile my experience with Mei's and her mom's because her mom seemed to understand Mei and transition herself to understanding Mei so fast; she was just much more emotionally intelligent than my experience has shown. There was a lot we didn't see though, like the four years of agony from being separated from Xing, so maybe Mei's mother was in a place where she was ready to understand. But there were decades of cultural brainwashing to get over and it felt very quick to me. Perhaps also part of it was that Mei was so mature with her understanding of what was going on quickly as well.

Overall, I am delighted and honored to have read American Panda, a vitally important book, which really highlights a "hidden" culture that doesn't get talked about enough, and I know a lot of Asian teens will see it as a beacon of hope, and possibly come to a greater understanding about their parents.
Gloria Chao is an MIT grad turned dentist turned writer. She currently lives in Chicago with her ever-supportive husband, for whom she became a nine-hole golfer (sometimes seven). She is always up for cooperative board games, Dance Dance Revolution, or soup dumplings. She was also once a black belt in kung-fu and a competitive dancer, but that side of her was drilled and suctioned out.
American Panda
is her debut novel, and Misaligned is forthcoming fall 2019.
American Panda
Preorder Links:
1. You've mentioned in other interviews that you wrote this book from your own experiences growing up. Can you speak a little about that and any words of advice to other Asian American teens going through similar trials?
Almost everything in this book is based on either something directly from my own experience, or from someone I know. I worked hard to write the most honest portrayal of a Taiwanese American experience that I could. In particular, Mei's relationship with her mother and the arc they take is closely adapted from my own experience. Some of the dialogue with the mother at the end of the book is taken word-for-word from real life (but translated from Mandarin). I wrote this to show other Asian Americans that they are not alone, that it's okay to feel as if you don't belong, and it can get better. To anyone out there struggling to figure out who they are and where they fit in, you are not alone.
2. What was the easiest and hardest parts of writing this book?
Mei's mother practically wrote herself. She's based on a few people I know (and yes, largely my mother), and once I found the right mix, her scenes were the easiest and most fun to write.
The hardest parts of writing this book were the sections that forced me to work through tough emotions in my own life, mostly regarding my own identity, my career, and my relationship with my parents. However, this also turned out to be the most rewarding because writing about them helped me deal in a way I'd never been able to before. I have grown so much from writing this book, and I've learned to communicate with my parents, especially my mother.
3. If you could sort your characters into Hogwarts houses, where would they go? You?
Mei's Mom: Hat would let her choose between Gryffindor and Hufflepuff, and she would eventually pick Gryffindor
Me: Part Hufflepuff, part Ravenclaw
4. Any advice for young writers trying to write their #ownvoices novels?
Tell the story only you can tell, and while feedback is important, only you know your story the best. There's a lot of pressure to "write what sells" and perhaps adapt to what's out in the market, but sometimes in this process, you can lose what makes your voice unique. Focus on what makes you stand out and own it! There are readers out there who need your story, and publishing is all about finding that right fit, which takes time and patience—just don't give up!
5. What book changed your life?
A lot of books have impacted me throughout my life (for example, I was in love with The Baby-Sitters Club as a kid and devoured them over and over), but the two series that got me into writing young adult were Harry Potter and Twilight. I caught onto the young adult genre as it was forming, and it felt like I'd finally found where I belonged. I read widely in the genre through dental school and eventually began writing my own stories.
6. What do you have next on the horizon?
I'm so thrilled that my next book, Misaligned, will be released fall 2019! The book follows a teen outcast growing up in a predominantly white, small Midwestern town, and when another Taiwanese family moves to town, she's swept up in a whirlwind romance and down a rabbit hole of dark family secrets. This book explores topics of racism, microaggressions, and not fitting in.
And now, you have the opportunity to win the pre-order gift for American Panda... without having to pre-order (although you should anyway!). See below for what you have the chance to win! All you have to do is fill out the rafflecopter and cross your fingers! This giveaway is INTERNATIONAL!
a Rafflecopter giveaway