Hey gang! I'm so excited to invite Kendare Blake, the author of Anna Dressed in Blood, back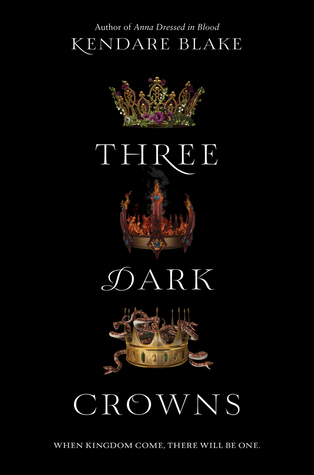 to my blog! I remember reading Anna in 2012 and being blown away by her dark writing, and I knew I'd be picking up her books to come. She has done it again with Three Dark Crowns (and recently just got a starred review, which is well deserved!), which is just a phenomenal book. And as an extra treat, Kendare is giving the book away, so make sure to read to the end of the post!
Goodreads Description:
Every generation on the island of Fennbirn, a set of triplets is born: three queens, all equal heirs to the crown and each possessor of a coveted magic. Mirabella is a fierce elemental, able to spark hungry flames or vicious storms at the snap of her fingers. Katharine is a poisoner, one who can ingest the deadliest poisons without so much as a stomachache. Arsinoe, a naturalist, is said to have the ability to bloom the reddest rose and control the fiercest of lions.

But becoming the Queen Crowned isn't solely a matter of royal birth. Each sister has to fight for it. And it's not just a game of win or lose…it's life or death. The night the sisters turn sixteen, the battle begins. The last queen standing gets the crown.

If only it was that simple. Katharine is unable to tolerate the weakest poison, and Arsinoe, no matter how hard she tries, can't make even a weed grow. The two queens have been shamefully faking their powers, taking care to keep each other, the island, and their powerful sister Mirabella none the wiser. But with alliances being formed, betrayals taking shape, and ruthless revenge haunting the queens' every move, one thing is certain: the last queen standing might not be the strongest…but she may be the darkest.
My Rating:
5 couches
My Review:
Ever since I read Anna Dressed in Blood by Kendare Blake many years ago, I knew there were was something super special about this author. The thoughtful but delightfully creepy way she wrote YA horror was really mind boggling. When I saw that she had recently written another book called Three Dark Crowns, I immediately obtained an e-ARC of it from Harper (thanks!) and read the whole thing in a day (thanks to a 3 hour plane ride and a 2 hour stint at the airport!). This book is unbelievable, guys. I had no idea what I was getting into, and it was a ride you won't want to get off.

Three Dark Crowns is written in tight third person present, which really works for the story. We are presented with three (more accurately 4) perspectives in alternating chapters from three sisters, all Queens. The catch is this-- triplets are born from the current Queen, and then when they are 6 years of age, different Houses/islands take them into custody and teach them their ways (Poisoner, Naturalist, Elemental). When they reach of age, only one can be left standing, the other two must be murdered by the ruling Queen. Holy cow, right? What a great hook. It only gets more and more complex as the story unveils itself.

I can't say enough good things about this book. The characterizations are pitch perfect. I wanted to know more about each of the queens, they are all equally interesting to me. I had been wondering if Katharine was the youngest (The Poisoner) and turns out she is because you can just tell by the characterization. She doesn't seem to have any talent and neither does Arsinoe, who is supposed to be a naturalist. The naturalist queen shares the tight third perspective with her best friend, who is the strongest naturalist the kingdom has seen in many years, just adding another hook. Mirabella, the oldest of the triplets, is the most talented, and has had the ability to control the elements for years. While it seems like she is the likely candidate to win, she loves her sisters and has no drive to murder them. I just couldn't get enough of these characters or this world, or the dark, moody atmosphere that Blake is just so good at. Her writing has only gotten better and stronger since her first YA series, and I was just so impressed with the skill of her prose. The feeling I got with this book felt similar to how I felt with Robin LaFevers' series with the assassin nuns, which is high praise because that is one of my all time favorite trilogies. Not usually do I start to have crushes on several boys in books, either, and I found myself swooning over not one, but definitely 2, and possibly 3, although I may have changed my mind about him by the end. And then that ending... oh my goodness. I need the next book in my hot little hands NOW!!!

Overall, a phenomenal start to a series, with dark, lush and gorgeous writing, with rich and three dimensional characters that wouldn't let me go even after the book came to a close. The sequel to this book will be at the top of my TBR list.
Weblinks:
Pre-order links for the book:
Author blurb:
Kendare Blake has a hankering for French food. Or donuts. Or a Seattle dog. Whatever you've got really, she's just hungry. She is the author of the Anna Dressed in Blood duo (soon to be a movie, fingers crossed!) the Goddess War Trilogy, and Three Dark Crowns, which is what she's talking about today. That was a whole lot of referring to myself in the third person.
1. I don't usually ask authors the dreaded question "How do you come up with your ideas?" but I have to ask for this particular story if you had an inspiration for the 3 deadly sisters. I love the setup and think it's so fascinating that there must be a fun backstory to it!
The Dreaded Question...but finally I have an answer to it! So, I was at a book event and there was a bee ball in a tree. A swarm of bees. People were afraid of being stung, but a beekeeper said not to worry, because they were only protecting their queen in the middle and weren't much concerned with what we were doing. Then she told me about queen bees, how they will lay four or five queen eggs before they leave their hive, and when the daughter queens hatch, one kills the rest and takes over the hive. Interesting, I thought. And then on the drive home, I thought about how much I'd like to do that to people, and the idea that became Three Dark Crowns was formed!
2. If you could choose one sister for whatever reason, whether it be that she least annoys you or she has street smarts, etc, to fight for you in a battle, which one would it be and why?
I would choose Mirabella to fight for me in a battle. Hands down. I love all of them, but Mirabella has a drive for protecting those she cares for, and, let's face it, she's absolutely the strongest.
3. There are several swoony guys in this book, and I honestly had a hard time picking one I liked best. Is there one in particular you'd like to keep for yourself? Why or why not?
Ah, the boys. The arm-candy! The personal agendas! I'm curious to find out who you ended up liking the most. As for one I would keep, I mean, if I had to choose only ONE, it would be Joseph. He's completely conflicted but he's all best intentions. He's only loved one girl his whole life. What happens in the book breaks his heart as much as anyone's.
4. I ask in all my interviews, and in this particular case, I think will be very enlightening: Which Hogwarts house would each of the sisters be sorted into and why? I have my suspicions :-)
Oh, delightful question! My husband and I just recently sorted ourselves at Pottermore and were surprised to discover we're both Ravenclaws. Okay, I was surprised to discover he was a Ravenclaw. Anyway, back to the question:
Mirabella would be a Ravenclaw, for her natural excellence and superiority of her gift. Arsinoe would be a Gryffindor, for her indominable spirit and courage for herself and her friends. And Katharine would be a Hufflepuff. Perhaps you thought she would be a Slytherin? Natalia and Pietyr certainly would. But sweet Kat is Hufflepuff through and through.
5. You've written several different genres now-- the wonderful Anna Dressed in Blood, a YA horror duology, The Goddess trilogy, more into Greek mythology, and now dark fantasy. What genres would you like to try next?
Next...well I do like dark fantasy. And I will always have a toe in horror. I want to write a hero's tale. And maybe a weird thriller. Maybe a graphic novel, a different kind of storytelling altogether.
6. What is your drafting process? Do you do a free write? Outline? Give us a few details of what you do to get the story down on paper.
You know, it seems like every book is different. With Anna I did a little research first and then Cas pretty much took over. With Antigoddess, Athena took over, but Cassandra was a pill and refused to cooperate, requiring many rewrites and diagrams. Three Dark Crowns was "free-written" about four times. That last time was just because I realized I'd written it in the wrong voice. The wrong tone. Three Dark Crowns 2 was largely outlined, which I've never done before. So I guess I don't have a set process. I have to wrangle each book how it wants to be wrangled.
7. If you could go anywhere in the world for a write-cation, to get inspiration for your next sets of books, where would it be and why?
I would want to go to a European city. Vienna, maybe. I feel like cities are great, dynamic environments with a lot of options.
8. What books can we look forward to next?
Hopefully I'll have a better answer to that in a few months, but for now Three Dark Crowns 2 comes out in 2017!
And now... the giveaway! Kendare has generously offered a signed hardcopy up for grabs and this giveaway is INT! So please enter

!
a Rafflecopter giveaway