Thanks for stopping by today for a great and very moving (I cried!) interview with the amazing Zac Brewer. He wrote the tremendous MADNESS, which was one of the most difficult and yet important books I have ever read. Also, this interview is one of two I'm doing online with a giveaway to promote the St. Louis Book Fest YA panel!
Here are some details about the panel:
From

12pm-1:30pm

at The McPherson (4715 McPherson Ave.) on

September 23

, we'll have Sherman Alexie (here for the 10th anniversary edition of The Absolutely True Diary of a Part-Time Indian), Nina LaCour (We Are Okay), and Zac Brewer (Madness) talking about their newest books, and also the role of today's most relevant teen issues in contemporary YA fiction.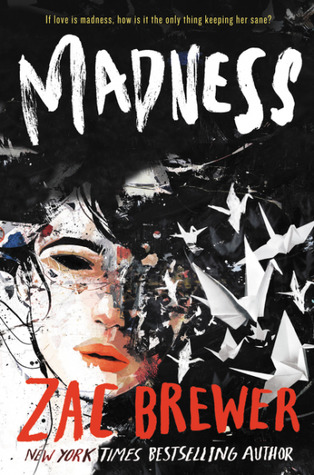 Goodreads Book description of MADNESS:
New York Times bestselling author Zac Brewer delivers his most honest and gripping novel yet, about a girl who believes she's beyond saving—until she realizes the only person who can save her is herself.

Brooke Danvers is pretending to be fine. She's gotten so good at pretending that they're letting her leave inpatient therapy. Now she just has to fake it long enough for her parents and teachers to let their guard down. This time, when she's ready to end her life, there won't be anyone around to stop her.

Then Brooke meets Derek. Derek is the only person who really gets what Brooke is going through, because he's going through it too. As they start spending more time together, Brooke suddenly finds herself having something to look forward to every day and maybe even happiness.

But when Derek's feelings for her intensify, Brooke is forced to accept that the same relationship that is bringing out the best in her might be bringing out the worst in Derek—and that Derek at his worst could be capable of real darkness.
His name is Zac Brewer...but you can call him Z. Under the name Heather Brewer, Zac is the
New York Times
bestselling author of The Chronicles of Vladimir Tod, which has sold more than 1.5 million copies around the world, as well as many other books. Zac is a vocal anti-bullying advocate and an inspiration to LGBT+ teens. When he's not writing, he's plotting world domination. He lives in Bridgeton, Missouri, with his husband, two children, and four diabolical overlords that some people refer to as "cats".
Interview with Zac Brewer
1.
Madness is about a teen suffering from severe depression and suicidal tendencies. For me, the first half of the book was very difficult for me to read just because Brooke's mind is a dark place to be. But you had to live in her head for much longer, and I can imagine this process of writing this book was very difficult. Could you tell us a little bit about this process and why this book was so important for you to get out into the world?
You're right - Brooke's mind is a dark place during the first half of the book. But the thing is, it wasn't so much that I lived inside Brooke's head, but that I used Brooke as a conduit – a way to express my thoughts and feelings during the deepest depression of my life. At the time I began writing the book, I had decided that I would pour my most private thoughts, my darkest feelings onto the page and then take my life. I had imagined it as an unfinished goodbye letter.
But then my wonderful, loving husband stepped in and urged me to get help. Because of him, I started down the road to recovery – something that's lined with the right medications and an intensive therapy program. His prompting saved my life.
I hadn't planned to finish writing the book, but ultimately decided that Brooke deserved the journey I was finally benefitting from. So, I wrote the last half, as well as all of Brooke's therapy sessions, to express how it had felt to go from knowing that I couldn't be saved from myself, to understanding that there is always hope.
And so, my once-unsigned goodbye letter became MADNESS. It's important for me that it's out in the world for two reasons, really: 1. Over 350 million people the world over suffer from depression (and those are just the documented cases). It's such an isolating thing to experience. You feel like no one understands. I want to share with the people who suffer from depression and suicidal ideation to see that I understand and that they – we – are not alone. And 2. Publishing it is like letting go for me. Letting go of the worst period in my life. Understanding that storms may come again, but I've weathered it before, and I'm strong enough to do so again.
2.
What themes do you hope your readers draw from the story?
I once heard a quote by Jared Padalecki from Supernatural that sums up what I'm trying to drive home with MADNESS:
"There's no shame in having to fight every day, but fighting every day, and presumably, if you're still alive to hear these words or read this interview, then you are winning your war. You're here. You might not win every battle. There are going to be some really tough days. There might be several tough times in any given single day, but hopefully, this will help somebody to think, 'This isn't easy; it is a fight, but I'm going to keep fighting.'"
3.
For those of us who struggle to find the best ways to help someone like Brooke, can you give us any tips? Also, any info like suicide hotlines, or other places for people to find help?
Please try to remember that you are not alone. You are never alone. There is always a light at the end of the tunnel – you just can't see it all the time. Keep moving forward. I promise you, it's there. And if you get stuck, just reach out. There are lots of people in there with you, ready to hold your hand. I know. I'm one of them.
J
If you find yourself triggered or if you are suffering from depression or suicidal thoughts, please seek help.
The American Association of Child and Adolescent Psychiatry
(
www.aacap.org
)
The National Suicide Prevention

Lifeline

's mission is to provide immediate assistance to individuals in suicidal crisis by connecting them to the nearest available suicide prevention and mental health service provider through a toll-free telephone number: 1-800-273-TALK (8255).
4.
In many families and cultures, therapy has a bad rep. I loved the therapist in Madness. Can you speak to us a little about therapy and how it is important in helping people in depression?
Therapy has been invaluable to my recovery – and it is an ongoing recovery. But I, like Brooke, was very resistant to it in the beginning. Like her, I thought that therapists were just nosey people who liked to think they know everything, simply because they have a framed diploma on the wall – and I'm sure there are some out there who fit the bill. Fortunately for both Brooke and myself, there are also many good therapists out there who sincerely want to help. Having a safe, validating, non-judgmental place to share all the feelings you're experiencing is vital to survival. It's not easy. But it works if you trust the process.
5.
Did you have crit partners or beta readers for this book and if so, in what way were their comments helpful?
I wrote MADNESS without anyone peeking at a word I was writing until I sent it to my agent, Michael Bourret, and my editor, Andrew Eliopulos. It's difficult to be so raw, so honest, so vulnerable – even if one is using the plausible deniability of fiction to do so. For that reason, I couldn't let anyone but them read it once it was finished – that is, until now. Both my agent and editor gave me incredible support and wonderful advice for the best way to get my message to those who need it. I'm very lucky to have them.
6.
For the characters Brooke, Derek, and Duckie, what Hogwarts houses do you imagine they would be sorted into and why?
Ooooh, this is such a cool, right-up-my-Diagon-Alley question! If I had to sort Derek into a house, it would be Slytherin. But not because I view him as bad – after all, it's the decisions of a wizard that determines whether they're good or evil. Derrick is intelligent, and definitely abides by the house motto "Do what is necessary".
Brooke is Gryffindor, for sure. She's

courageous, adventurous, and daring. Though she may not see it right away, she's also incredibly brave.
As for Duckie – that's easy. Duckie is so obviously Hufflepuff. He's loyal, supportive, dedicated, patient, and fair. Duckie is proof that we all need to have that Hufflepuff friend in our life. :)
7.
Can you give us a hint as to what you are writing next?
I'm currently working on a YA book that will be released by HarperTeen in 2019. I'm still on the first draft, and at the moment, it's a challenge for me to label it under a specific genre. However, I can say that it's my most ambitious novel yet and centers around a Transgender person named Quinn. I don't want to say too much, but I will say that it was inspired by both Silent Hill and Star Trek TNG.
8.

Do you have any final words for my readers from your personal experiences?
Every day is not sunshine and rainbows. I wouldn't lie to you and say that they are – that you can go through therapy, get on meds, and rainbows will shoot out of your butt.
I'd only say that if it were true. And I'm almost certain it's not. Almost.
The truth is, some days, I still have dark thoughts, and wonder if I can bear to keep going. But the answer is yes. I can. Because of you, Minions. I can't leave you alone to face the darkness. I won't.
So when you're there, in that dark place, and you feel like you're all alone…just reach out and give my hand a squeeze. Because I'm here. And we'll get through it.
And now... you have a chance to win this great book! Sign up on the rafflecopter to win a book donated by the amazing Left Bank Books!
a Rafflecopter giveaway