Dear All:
I have been so lucky to get several HMH Teen YA contemporaries that are coming out soon. I've been so impressed with them, and this was one of my favorite titles.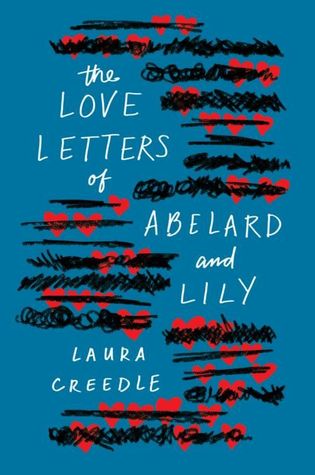 Goodreads Book Description:
When Lily Michaels-Ryan ditches her ADHD meds and lands in detention with Abelard, who has Asperger's, she's intrigued—Abelard seems thirty seconds behind, while she feels thirty seconds ahead. It doesn't hurt that he's brilliant and beautiful.

When Abelard posts a quote from The Letters of Abelard and Heloise online, their mutual affinity for ancient love letters connects them. The two fall for each other. Hard. But is it enough to bridge their differences in person?

This hilarious, heartbreaking story of human connection between two neurodivergent teens creates characters that will stay with you long after you finish reading.
My Rating:
5 couches
My Review:
I absolutely loved this book! For someone who probably reads the fewest contemporary YAs (I'm usually drawn in by sci fi, fantasy, thrillers), I've read some really darn good contemps this year, and I'm happy to continue on the ride for as long as they're this good!

The Love Letters of Abelard and Lily hit all the things that I love. Two really flawed main characters (one with ADHD and the other on the autistic spectrum-- a combo of too fast and too slow communication) who somehow have the cutest, most adorable romance. I love literature, particularly old literature. I had an amazing class and teacher of British literature in high school and this totally tapped into that nerdy side of me. I was swooning during their first texts! And the way it was integrated into their conversations so that they could communicate just totally made sense. There is someone dear to me who is on the autistic spectrum and I have always worried what life has in store for them. Will they ever find love? Will they get married? And this book just gives me hope.

The book itself is beautifully written and well plotted. I couldn't put it down once I got started. So grateful I got to read it!
Blurb about the author: Laura Creedle is an ADHD and dyslexic guitarist and writer. After thumb surgery kept her away from the guitar, she enrolled in a graduate level reading specialist program. She failed out of the program for not being able to read well enough.
Twice.
That experience inspired her to write
The Love Letters of Abelard and Lily
.
Laura lives in Austin, Texas with her husband and son. When not writing, she volunteers with a kindergarten pre-literacy program at a local school. The Love Letters of Abelard and Lily is her first novel.
Interview of Laura
I love that The Love Letters of Abelard and Lily is an #ownvoices novel, which must have been both exciting yet hard to pull off. I have several questions related to this:
1. Writing a novel requires a lot of focus, which would drive the most patient person bonkers. Tell us a little bit about your journey with writing this book and what was difficult and what was easy.
I am ADHD and short on patience. I'm also not great at task-shifting. Long ago I realized that I'm not the kind of person who wakes in the morning and writes for forty minutes before leaving for work. If I get into my writer brain, I'm not good for much else. That said, ADHD hyper focus is very helpful in helping me get words on the page quickly.
2. Did you do research for this book as you have personal experience already with ADHD, but maybe not as much with the autistic spectrum? If so, what did you research?
No, I didn't have that much experience with the autistic spectrum and I did a lot of research, both scientific and personal. I spent countless hours watching Youtube channels, but what really helped me was having a lot of beta readers with more knowledge and experience. They helped me immeasurably. And I was surprised and touched to find so much commonality of experience with people on the autistic spectrum who were willing to share their stories.
3. How much of your main character is like you? What is similar, what is different?
Lily is a lot like me. I'm older, and I have marginally better impulse control, but I still break things a lot.

Now onto other questions:
4. I always ask this of all of my authors, it's ok if you haven't read HP, but in case you have, what houses would Abelard and Lily be sorted into and why?
Lily could be Slytherin or perhaps Hufflepuff. I think good Slytherins tend to be honorable, but misunderstood, and that's how I see Lily. I see Abelard as Ravenclaw.
5. What made you decide to utilize the works of Abelard and Eloise in your book? Do you love old literature? (I do!)
I do too! In an early draft, the book was less romantic, and I looked for inspiration from history. I reread the Letters of Abelard and Heloise and was struck by how passionately they both lived through their letters. This line sold me—"Letters were first invented for comforting solitary wretches such as myself." Abelard and Lily both see themselves as "solitary wretches" until they start texting each other.
6. What is your go to snack food?
I drink a lot of coffee. I mean, a lot of coffee. Apples, cheese, dark chocolate— anything that that can be cut into small pieces and eaten alongside coffee.
7. What do you wish you had known before you started the publication process?
Oh wow— it takes forever! Geologic time frame as compared to the rest of the world where you pop something off, stick it on the internet and it's dead by the end of the day. I'm not great at waiting for anything.
8. Can you tell us a little about what you are working on now?
I'm working on a novel about a girl who has to take care of her little brother when her mother disappears. When she ends up at an alternative high school she gets a lot of help from a boy who is at the tail end of a major depressive episode. They start a band, and things get interesting for both of them. I used to be a guitarist, and it's been fun to write about the thrill of making music with other people.