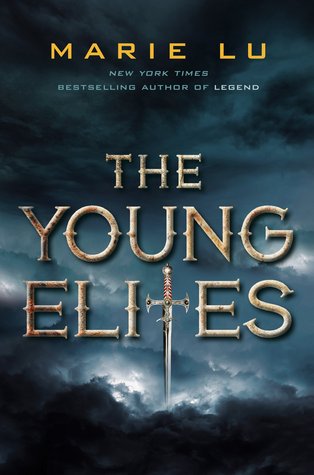 Dear All:
It's been an embarrassingly long time since I've written a post, but fortunately, I promised Penguin I'd write up something for The Young Elites, by the amazing Marie Lu (which by the way, is an honor because this book is freakishly awesome!) so in the face of a deadline, I'm finally getting back to this at least for this post (hopefully for semi-regular posts).
I'm hoping to get back to blogging regularly in January. My last post was March (gasp!) and I think I've read a total... yes, gang, a TOTAL of 5 books this entire year. I told Crystal of Bookiemoji this fact and she was horrified. I just started a new job in July, and am submitting a huge grant Monday, and spend the remainder of my time chasing after my increasingly active 13 month old, Olivia! I have a lot of great ideas for posts for the future-- to highlight the few but amazingly good kids books, the wonder of the graphical novel, and how we can get our kids more interested in reading (and one day my favorite genre, YA!) so tune in for those! And of course, there will always be giveaways :-)
All right, back to the task at hand. I received this paperback copy of The Young Elites by Marie Lu in exchange for an honest review.
Goodreads Description:
I am tired of being used, hurt, and cast aside.

Adelina Amouteru is a survivor of the blood fever. A decade ago, the deadly illness swept through her nation. Most of the infected perished, while many of the children who survived were left with strange markings. Adelina's black hair turned silver, her lashes went pale, and now she has only a jagged scar where her left eye once was. Her cruel father believes she is a malfetto, an abomination, ruining their family's good name and standing in the way of their fortune. But some of the fever's survivors are rumored to possess more than just scars—they are believed to have mysterious and powerful gifts, and though their identities remain secret, they have come to be called the Young Elites.

Teren Santoro works for the king. As Leader of the Inquisition Axis, it is his job to seek out the Young Elites, to destroy them before they destroy the nation. He believes the Young Elites to be dangerous and vengeful, but it's Teren who may possess the darkest secret of all.

Enzo Valenciano is a member of the Dagger Society. This secret sect of Young Elites seeks out others like them before the Inquisition Axis can. But when the Daggers find Adelina, they discover someone with powers like they've never seen.

Adelina wants to believe Enzo is on her side, and that Teren is the true enemy. But the lives of these three will collide in unexpected ways, as each fights a very different and personal battle. But of one thing they are all certain: Adelina has abilities that shouldn't belong in this world. A vengeful blackness in her heart. And a desire to destroy all who dare to cross her.

It is my turn to use. My turn to hurt.
My Rating: 5 out of 5 couches
My Review: I'm thanking my lucky stars that this book was one of the five that I've managed to read all year (and by the way, I've been really lucky in the ones I've read, they've all been fantastic but all drastically different). I loved Marie Lu's Legend series, and so I was thrilled (and also nervous) to see she had started another series. I'm sure it's also totally nerve-wracking to be an author who has published a New York Bestselling Trilogy and then have to follow it up with something equally good or better. It must be petrifying.
Thankfully, Lu has amazingly managed to do that in spades. In The Young Elites, she chronicles the rise (and fall?) of Adelina Amouteru, who has been abused physically and emotionally by her father, who only sees his children as commodities. On the first page, we find that she's been jailed and her execution date is set. From there, with a quick and daring rescue from the Elites, we find out simultaneously about her past and quickly moving present, which I think was an important and very tricky decision by Lu. Adelina's power stems from darkness, and she has to be a mixture of scared for her life and angry in order to call upon this power. Other than her sister, whose presence lurks behind every page although she's not seen for much of the book, players that gain importance in Adelina's life include the handsome and dashing Enzo, who Adelina likes more than she wants to, Teren, who threatens to take away everything she cares about, and finally, and probably the most interesting character, Raffaele, a gorgeous courtesan, who warns Enzo to kill Adelina before she can become a threat, but ends up training her per Enzo's request.
The setting is fascinating and gorgeous, and the writing is as moody as the atmosphere. The tension builds from page one, and I found myself equally fascinated with her past and her present, because the two are inextricably intertwined. Adelina herself is set up as an antagonist-- much like Breaking Bad, she doesn't start off as a bad person, and it's not clear if she's gone to the dark side completely at the end of the book, either. But there is darkness emanating from every page, and it's clear that she can easily slide into the darkness. Lu has a difficult job, making Adelina accessible to the reader-- we want to like her, and we can understand where she comes from, but she doesn't always make the right decisions. I still don't know how I feel about her at the end of the book, which I think is exactly how Lu wants us to feel. There are twists and turns to the book that I did not predict, but when I came to them, I felt they were exactly right. And my favorite part of the book wasn't even part of the story-- it was Lu's personal journey with this book. She started with Enzo, I'm guessing, as the main character, and something just wasn't quite right. Then her agent suggested that Adelina, her bad girl supporting character, was actually the star.
My favorite character, if you haven't guessed, is Raffaele. While Enzo and Teren are rather standard supporting characters, Raffaele is a bit of a chameleon and neither Adelina nor I quite know what he's thinking, how he feels about other people or situations, or what his true motives are. I have a feeling he'll play a large role for the rest of the trilogy, and am eager to see what Lu has up her sleeve.
I wonder if this would even be as big of a hit if Lu had not written the more standard and easy story of Legend first (side note: I also love that backstory of how she wanted to do a story modeled after Les Miserables) because having a villain as a main character is a very risky move. I'm just glad that Lu is worthy of her star power, and she'll continue to be a force in YA with every book she writes.
Other favorite villains include (you can get the gist that I'm a sucker for a tragic villain, one that has a complicated backstory that makes them more real and sympathetic): Javert from Les Miserables, Iago from Othello, Dr. Octopus from Spiderman, Evil Willow from Buffy, Angelus from Buffy, Daniel Shaw and Alexei Volkoff from Chuck, Sylar from Heroes, Gollum from Lord of the Rings, Raistlin from DragonLance.
I think the scariest villain is one who starts off as a regular human being but because of unfortunate circumstances gets sucked into a path of evil. This particular villain is frightening because I can see how any one of us might do the same...
Don't forget to order your copy of The Rose Society, the highly anticipated sequel of The Young Elites, which comes out Tuesday, October 13th!